I finally got a chance to take my new Trident 15 out for a spin. I met up with Allen and Frank at the SC harbor around 6:30 last Saturday. We were targeting halibut but were willing to take anything that liked what we were offering. Things started off pretty slow...I was picking up some small rock fish here and there. Then I get a major bendo in my rod and it's fish on. Thinking I had a hali on I grabbed the gaff but it turned out to be ling that looked legal so I gilled him and was about to measure him when he went ape $hit, gave me a quick lap dance and sploosh...back in the drink. Damn!!! Also left me with a nice little ling hicky that didn't stop bleeding for over an hour. Anyway...enough of the whining.
I drop down again and not five minutes later BAM...This time I'm pretty sure it's a halibut cause I've never had a fish head shake like this before. Grab the gaff and it's time for some whooping and hollering cause I just landed my first legal halibut!!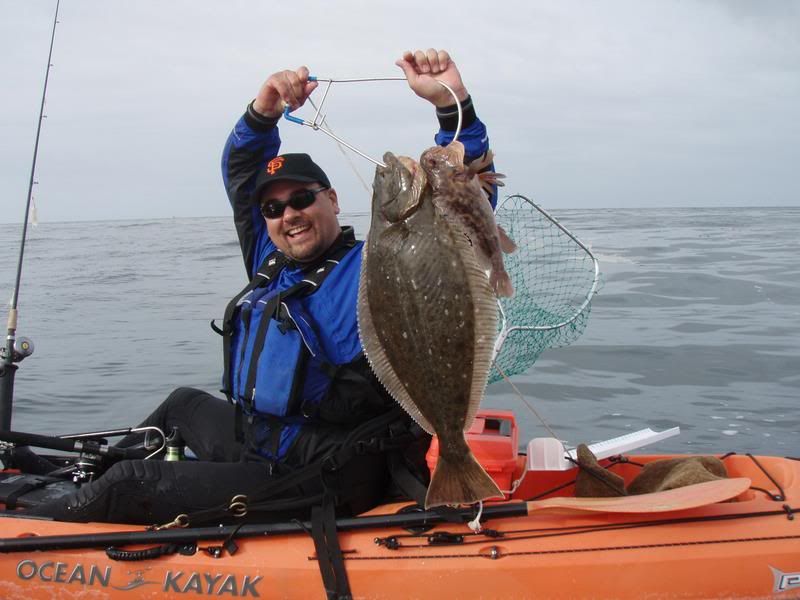 Finished the day with a few more small rock fish and we were back to the harbor before 11am.
What a great morning of fishing. A big thank you to Allen for pointing me in the right direction.
-deva